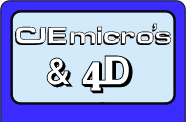 CJE Micro's and 4D Privacy Policy
This privacy policy sets out how we (CJE Micro's and 4D) use any information that you give us. We are committed to ensuring that your privacy is protected. Should we ask you to provide certain information by which you can be identified, it will only be used in accordance with this privacy statement.

The policy may change from time to time by updating this page.

What We Collect
We may collect the following information:
Name
Contact information including physical and email addresses
Details of orders placed and product enquiries
Other information that may help us support you and develop products and services, this may include but is not limited to: Your computer model/s, O.S. Version and other hardware, and software you have including settings.
Copies of files during data recovery/migration and as a short term backup pending confirmation of safe return of data.
Emails are routed through our domain hoster, currently xencentrichosting.com, and our ISP, currently PlusNet. For their privacy policies please see here and here respectively.

We never store card details on our computers. Our online shopping cart is securely hosted by Mal's e-commerce (also known as aitsafe.com), please refer to their privacy policy for details of how they process your data.

What We Do With The Information We Gather
We require this information to understand your needs and provide you with a better service, and in particular for the following reasons:
Internal record keeping and communication
We may use the information to improve our support for you and communication with you.
Subject to specific information being granted:
We may periodically contact you about our products and services.
Links To Other Websites
Our website may contain links to other websites of interest. We have no control over other websites. Therefore, we cannot be responsible for the protection and privacy of any information which you provide whilst visiting such sites and such sites are not governed by this privacy statement.
Controlling Your Personal Information
You may choose to restrict the collection or use of your personal information by restricting the consent that you give. You can change your consent at any time by contacting us, if by email please send to sales@cjemicros.co.uk

You may request details of personal information which we hold about you under the Data Protection Act 1998 and GDPR. If you believe that any information we are holding on you is incorrect or incomplete, please email us as soon as possible, at the above address. We will promptly correct any information found to be incorrect.

We do not share your data with any third parties and would not do so without your specific consent.

We endeavour to act in accordance with all the relevant regulations, including the Data Protection Act and the General Data Protection Regulation. Further information is available from the ICO (Information Commissioner's Office).


Chris Evans (Proprietor)
June 2019


---
If you have a sales enquiry please email our
sales department
Unit 16, Arunside Ind. Est., Fort Road, Littlehampton, BN17 7QU, UK. 01903 523222
(full contact details)
If you have any comments or problems please email
sales@cjemicros.co.uk
CJE Micro's is not responsible for the contents of external internet sites.
Page last updated Friday, 15-Nov-2019 12:23:22 GMT